This Friday's AIFD/HIFD Folk Dance, May 22, 7:30-9:30pm, Zoom link.
From the new AIFD Board President:

Hi, Austin International Folk Dancers. I'm honored to have been elected President of AIFD, and am VERY pleased to be joined by Bill, Daisy, Marcia, Scott, and Lisa. We also have already received support from Bill Ogilvie and Franklin Houston.

Here's a bit about Fiamma and me.

Fiamma and I started folkdancing regularly at Tapestry Folkdance Center in Minneapolis. We attended and Fiamma supplied pies for two nights of fundraising in December 1983. The first Tapestry international dancing started on Friday, January 6, 1984 and we've been dancing Fridays ever since, missing only when we're out of town or have company. Fiamma wanted to couple dance, but I liked the energy and variety of international folk dancing so that's how we ended up at Tapestry IFD.

I served on Tapestry's board for two years. I helped writing a code of conduct, maintained the dance list, opened and closed the building, and ran the music. I was treasurer for Snopa Folkdance Weekend for ten years.


We moved to Austin four years ago, right after we met Madeline at Tapestry IFD. She immediately made us feel welcome with a big Texas hug when we arrived at AIFD three weeks later.

One of my goals is to welcome new beginning and experienced dancers. I try to welcome new dancers by dancing with them 'behind the line' or into the line, saying "there's always room for one more."

The COVID-19 pandemic has brought us many challenges, perhaps beginning with Austin's "stay at home" order. We mourn the loss of John Ramage and Jasmine Guha-Castle. We need to manage living safely in our households, perhaps alone, but always loving others at a distance. And of course we worry about finances and work and food and our homes.

If you need help, reach out to others inside and outside our dance community – the pandemic is scary.

And join the AIFD/HIFD online dancing Friday evenings, or other online dancing mentioned here and what you can find on the web.

AIFD will be back dancing in person at some point. We hope you will join us then.
Be safe and know we love you and care about you. Reach out for help if you need it.

Craig (and Fiamma)
City of Austin Update:
As folks have seen, Austin is slowly allowing businesses and facilities to open, trying to balance the risk of infections
with the benefits of "returning to normal". Needless to say, it could be a long time before folk dancing as we know it returns to Hancock Rec Center. And even then it will depend on what is allowed combined with what folk dancers feel safe with. In the meantime, we hope everyone is enjoying the online activities.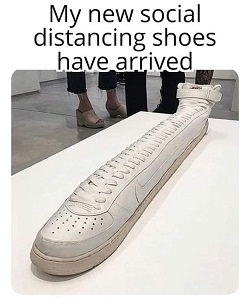 (Thanks Dena Houston for the picture.)
Online Dance Activities
Compiled by Denise Fynmore.
These are some of the online dancing events, but not all. Please check our Facebook page frequently:

Friday Night Folk Dance co-hosted by Houston and Austin International Folk Dancers, 7:30-9:30pm. Zoom link for this Friday, May 22.

Yves Moreau – has dance videos of his teaching of FIVE dances. These are available on his Facebook page anytime.

Dimitar Petrov teaches a workshop with several Bulgarian dances. It is on YOUTUBE.COM, also with a link from the AIFD Facebook page. Available on YOUTUBE anytime.

The San Antonio Folk Dancers have Tuesday night dances at 7:00 pm using Zoom. Use this link every Tuesday. Join Zoom Meeting us04web.zoom.us/j/430250629... Meeting ID: 430 250 629, Password: 95942.

Ira Weisburd is teaching Balkan Dance on Saturdays, Israeli Dance on Mondays, and Line Dance on Tuesdays!! His classes are on Facebook; check his Facebook page for details and times.

Rebekah Valencia is hosting Monday evening ZOOM folk dancing in your living room from Oklahoma. Check the Oklahoma City Folk Dancers Facebook page for time ad ZOOM link.

CDSS (Country Dance and Song Society) has compiled a great list of online events for the Contra and English Country Dancers. See their website at cdss.org/community/covid19/online-events.

If you have any suggestions or comments about upcoming online events, please email Denise at president@aifd.cc.