This Friday, October 14, 7:00-9:45, join AIFD for a fun evening of international folk dancing at HRC. $5 at the door (18 and up).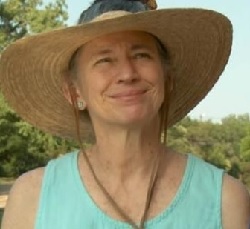 We don't have a DJ yet, but absolutely will by Friday. (S)He will be assisted by Dee McCandless.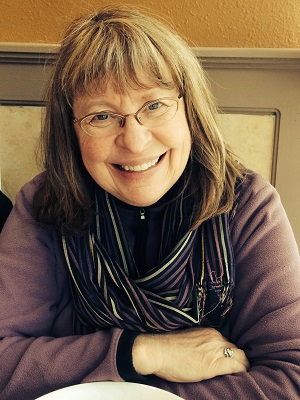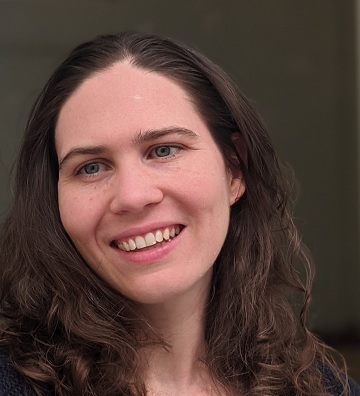 Teaching:
Come at 7 pm for Madeline Brock's wonderful teaching! You will see many of our favorites, such as Arap, Orijent, Tino Mori, Bal De Jugon, and Mindrele. Then, later in the evening, don't miss Emily Doubt reviewing the dances she recently taught -- Valle Jarnana and Batjovata Baldazka!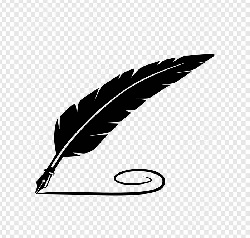 Please sign in

HRC needs an accurate account of attendance. Please sign in yourself and those accompanying you.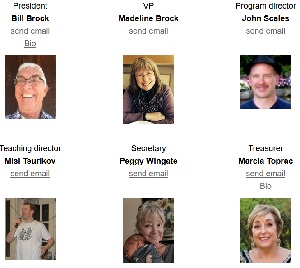 AIFD Board Meeting:
AIFD will have a board meeting on Thursday, October 13. If you have an agenda item to be discussed, contact our president, Bill Brock (president@aifd.cc).
Save the date!
The 75th TEXAS CAMP
November 24 – 27, 2022
Live, In Person, at Greene Family Camp!!!
Registration is open.
Full details at tifd.org
Check back frequently for updates.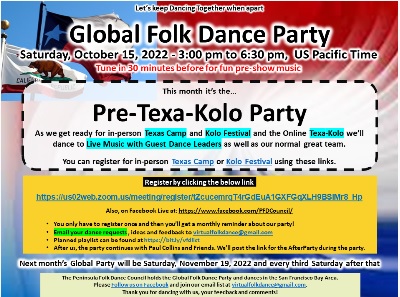 Pre Texa - Kolo virtual dance party!!!
Get ready for in-person Texas Camp and Kolo Festival with a virtual dance event on Saturday, October 15, from 5 pm to 8:30 pm central time (3-6:30 Pacific time).
If you would like to be removed from our newsletter distribution, please notify us at newsletter_editor@aifd.cc or click here.