AIFD Newsletter
November 4, 2016
HRC Historical Designation Ceremony
November 5, noon.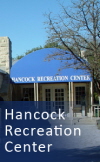 You are invited to the Hancock Recreation Center and Golf Course Historical Dedication Ceremony, Saturday, November 5, 2016, at noon. Note: no RSVP is necessary. This will be an outdoor event so dress comfortably. Refreshments will be served. Congratulations to all those who have helped make HRC a great facility for Austin.
This Friday at dancing
Franklin DJs, Jeff assists.

Enjoy a lively evening of folk dancing DJ'd by Franklin Houston. Franklin will be assisted by Jeff Kessel.

Teaching: KOLO HOUR at AIFD! Kolos are dances from the former republic of Yugoslavia that are usually (but not exclusively) done in open or closed circles without partners. Franklin Houston will share his love of the old-time kolos that came from the cities and towns in Serbia – the "old town dances" called "starogradske igre." The featured teaching will be U Šest, the most popular dance in Serbia and found in cities and villages alike, so much so that Serbs just call it "kolo!"




Friday, November 4, 7-9:45 pm
The admission fee is $5 for those 18 and older.
There is no fee for those under 18,
but they must be supervised by a designated person 18 or older.
Hancock Rec Center (HRC)

---




NO DANCING NEXT WEEK, Friday, November 11th.


In honor of Veterans Day, city facilities, including Hancock Rec Center, will be closed.

---

Friday, November 18th: Texas Camp Band at AIFD!!


Enjoy a preview of this year's Texas Camp music at dancing -- provided by members of the Texas Camp Band.

---

Friday, November 25th: Texas Camp - no dancing at HRC.
We hope you will be with us in Bruceville enjoying Texas Camp!!!





Have something you'd like to see in the AIFD newsletter?

Do you have an upcoming event you'd like to announce, a poem you'd like to share, a dance experience you think other dancers would enjoy? Feel free to submit it to the AIFD newsletter and we'll see if we can fit it in.
Link of the week:
Monster Mash Flash Mob.

---

Other dance links


AIFD:(Contact & Board page)


Wednesdays, 7:30-9:45, HRC, backroom, free.
1st Wed: singing; 2nd & 5th Wed: music jams; 3rd Wed: slow music jam; 4th Wed: dance - often with live music (no partner necessary).

Mondays, 7-9:45, HRC, backroom, free.
No partner necessary, we rotate often.




Nov 24-27: Texas Camp 2016!!

Registration is open for Texas Camp 2016. If you are a member of TIFD, a registration packet should have arrived. Alternatively, registration details, online registration form, and camp information are available at tifd.org/texas-camp. Upcoming key dates:


| | |
| --- | --- |
| November 8 | Absolute last day to register! |

Upcoming "Other Dance" features
A list of non-AIFD events you may be interested in:




Thursday, November 10: Bulgarika!!!
Bulgarian dance party on Thursday, Nov. 10 7:30-9:30 PM at Wildflower Terrace, 3801 Berkman Drive (at Tom Miller St) in the old Mueller Airport area. $10 donation requested (or whatever you can afford.) Bulgarika, the musical group, are on a three month tour of the US. The core of the group, Nikolay Kolev and Donka Koleva, have come to Austin with similar groups every year or two in mid-Fall. They are great musicians and have always provided us with a very special event. Please come and join in the dancing or just listen to the music. For more information contact Bob Leibman at bleibman@att.net or 512-420-0219.

---

---

November 18-20: Fire Ant Frolic.
Fire Ant Frolic is Austin's annual contra dance weekend. Brought to you by the Traditional Austin Area Dance Association, this year's event features nationally acclaimed fiddle player Jamie Laval, accompanied by Owen Morrison on guitar, with calling provided by Susan Petrick. For information and registration, check out www.fireantfrolic.org.

---

November 22: Scandinavian Concert and Dance!!!
Enjoy an evening of great Scandinavian music by Loretta Kelley and dance instruction by Roo Lester and Larry Harding on Tuesday, November 22nd, from 7-10:30pm. All three will be performing / teaching at Texas camp for following weekend. For full details, including location, check out the event flier. Concert and dance: $20 (Students/children $10).