AIFD Zoom Dance Event!!
Friday, May 1, 7:30-9:30.
Austin International Folk Dancers will host their first ZOOM dance this Friday from 7:30-9:30 with dances led by your favorite teachers. On Friday night, simply join the Zoom dance by clicking this link.

Complete details can be found here or on the AIFD Facebook Group page.
AIFD Board of Directors Elections!!!

Elections for AIFD board members are scheduled for May 8, and they will be done by email to those with current AIFD memberships.

These nominees have agreed to run for the following positions:
President: Craig Roberts
Vice-President: Bill Brock
Secretary: Daisy Lai
Treasurer: Marcia Toprac
Program Director: Scott Margo
Teaching Director: Lisa Dielman

Here are the job descriptions and requirements for these positions. If anyone else is interested in running for these positions, please email board@aifd.cc. The deadline for additional nominees is May 5. Ballots will be emailed to all current AIFD members on May 8.

Special note: This election is being conducted by mail ballot instead of at a special AIFD meeting because of the "stay at home" order issued by the City of Austin due to the COVID-19 pandemic.
From the AIFD Board President:
The City of Austin has extended the "Stay Home" orders until May 8, as well as the requirement to wear face coverings when not at home.
From Denise:


Again, I hope that you are all safe and well, and that you and your loved ones have not been touched by COVID-19.

We are keeping to our schedule for the yearly Board Election, and it will take place next week.

There continues to LOTS of online folk dancing and other dancing available on ZOOM, Facebook, YouTube, others, I'm sure. I have listed only some regular events here, so keep checking the AIFD and HIFD Facebook page for more information. I am also very excited to announce that AIFD will have it's first ZOOM dance this Friday, May 1!! Complete details here.
---
"John-John" Ramage.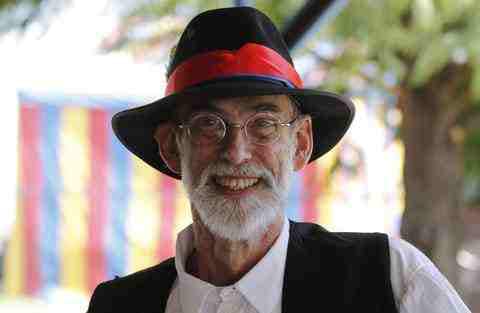 It is with great sadness that we announce the passing of "John-John" Ramage last Thursday evening. John had been a mainstay of AIFD since the 1960s. He served on the AIFD board many times and was a signer of the original AIFD Articles of Incorporation (1976). John participated in several folk dance performing groups, and was involved in many projects related to ensuring AIFD had high quality music for its weekly dance events. What makes folk dancing so special is the community it inspires. John was a very special part of that community, and his presence will be felt at every dance event.

We wish the best to John's wife, Peggy, his children, and his new grandchild.
Online Dance Activities
Compiled by Denise Fynmore.
These are some of the online dancing events, but not all. Please check our Facebook page frequently:

Austin and Houston International Folk Dance groups will hold ZOOM dancing on alternating Friday nights!! Watch the AIFD and HIFD Facebook pages for information and links. Details for Friday, May 1st, Zoom Party here.

Dance Party with live music by Clara Byom, Saturday, May 2, 8pm central time. Details and Zoom link at swifdi.org.

Yves Moreau – has dance videos of his teaching of FIVE dances. These are available on his Facebook page anytime.

Dimitar Petrov teaches a workshop with several Bulgarian dances. It is on YOUTUBE.COM, also with a link from the AIFD Facebook page. Available on YOUTUBE anytime.

Denes Marton, San Antonio Folk Dancers, has Tuesday night dances at 7:00 pm, using Zoom. Use this link every Tuesday. Join Zoom Meeting us04web.zoom.us/j/430250629... Meeting ID: 430 250 629, Password: 95942.

Ira Weisburd is teaching Balkan Dance on Saturdays, Israeli Dance on Mondays, and Line Dance on Tuesdays!! His classes are on Facebook; check his Facebook page for details and times.

Rebekah Valencia is hosting Monday evening ZOOM folk dancing in your living room from Oklahoma. Check the Oklahoma City Folk Dancers Facebook page for time ad ZOOM link.

If you have any suggestions or comments about upcoming online events, please email Denise at president@aifd.cc.