AIFD Newsletter
March 1, 2019
Nelda Drury
April 23, 1918 - February 21, 2019.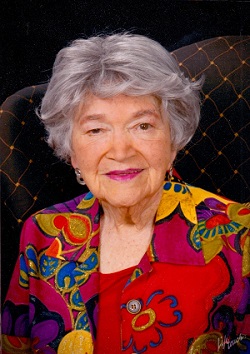 It is with tremendous sadness that we announce the passing of Nelda Drury. Nelda left us peacefully on February 21st.

We extend our condolences to her daughter Elizabeth Newton and her son Jimmy Drury.

Nelda's inspiration and passion for folk dancing cannot be overstated. A 1995 Ford Salute to Education Award summarizes this contribution nicely:
"Nelda Guerrero-Drury is recognized nationally and locally as one of the most prominent figures in performing arts – specifically International Folk Dance. She is an inspiring individual who has contributed over 40 years of her life teaching folk dance to many students and educators in San Antonio and throughout the world."
Nelda was a founder of the San Antonio Folk Dance Festival, which celebrates is 61st anniversary on March 14-17.

A wonderful biography of Nelda can be found on the socialfolkdance.org website.

A church service will be at Covenant Presbyterian Church on 211 Roleto Dr., Saturday March 9, 2-4 pm. Luncheon and dance after the service.


This Friday at dancing:
Franklin DJs, Dee assists.

Enjoy a lively evening of folk dancing DJ'd by Franklin Houston. Franklin will be assisted by Dee McCandless. In honor of Texas Independence Day, Franklin will feature dances popular over the years in Texas, including those done along our borders to the south and east. Get your boots on for some polkas, schottisches, waltzes, and two-steps!




Teaching: Madeline Brock will host the fourth and final 30 minute classes designed for newcomers to folk dancing and for those looking for a refresher on some basics. If you have friends or family who have wanted to try out folk dancing, this class is a great starting point. Afterwards, Michel Breger will teach basic German Landler figures, which can be danced free-style to any slow waltz or Landler music, or can be used in German dances such as the Zillertaler Landler.

Friday, March 1, 7-9:45 pm.
Admission fee is $5 for those 18 and older.
There is no fee for those under 18,
but they must be supervised by a designated person 18 or older.
Hancock Rec Center (HRC)



AIFD is organized exclusively for educational purposes, including the promotion and teaching of traditional folk dance, music and crafts native to a variety of countries.




Friday, March 8: Mardi Gras Party!!


Come party with us! We will do some Cajun and Zydeco dancing and "Laissez les bons temps rouler." More details to come.

---

March 14 - 17:
San Antonio Folk Dance Festival!!!

Reminder: In support of SAFDF, AIFD will not be meeting at Hancock Rec Center on Friday, March 15th.

---

Friday, March 22:
March Birthdays and Anniversaries!!


Do you or a fellow dancer have a birthday or anniversary in March? Come to folk dancing to celebrate with song, dance, and cake!





Have something you'd like to see in the AIFD newsletter?

Do you have an upcoming event you'd like to announce, a poem you'd like to share, a dance experience you think other dancers would enjoy? Feel free to submit it to the AIFD newsletter and we'll make it fit.
Link of the week:
Zillertaler Landler.

---

Other dance links


AIFD:(Contact & Board page)


2nd and 4th Wednesdays, 7:30 - 9:45 pm, Free:
Check the Scandi website for schedule details.

Mondays, 7-9:45, HRC, backroom, free.
No partner necessary, we rotate often.

Wednesdays, 7:30-10pm, Hancock Rec Center.
Enjoy this American dance form. All dances taught and called. Music provided by LOCO (Local On-Call Orchestra) - an open band, where anyone is welcome to come and play. Contact Dale Rempert at dale.rempert@gmail.com or visit austinbarndancers.org for more information.

Upcoming "Other Dance" features
A list of non-AIFD events you may be interested in:




Wednesday, 27: 4th Wednesday Scandi Jam!!
7:30 - 9:45 pm, Hancock Recreation Center Back Room. Free.
January 23rd: All instruments and dancers welcome.


---

---

April 5-7: "Not Just Oom-Pah" Accordion Workshop and Concert.
April 5: Free concert, Central Market North, 6:30-9.
April 6-7: Workshop, Lamar Senior Activities Center, $175 for accordionists (includes all materials and lunch each day), $60 for Non-accordionists (Includes lunch each day).
April 7, 2-4pm: Free folk dance session. Lamar Senior Activities Center.
For complete details, including contacts and registration, check out the event flier, Vjeverica.com, or notjustoompah.org.