This week at dancing
Holly DJs, assisted by Dee.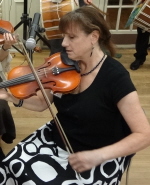 Enjoy a great evening of folk dancing DJ'd by Holly Plotner. Holly will be assisted by Dee McCandless.
Teaching: Ease into another great dance evening by coming right at 7:30 p.m. for a newcomers'

session led by Misi Tsurikov. Then, look for one last teaching from SAFDF 2014 -- Rozelaar, a lovely waltz-time mixer introduced by Sanna Longden and taught at AIFD by Misi. It will be our only dance from the Netherlands (so far)!
---
Saturday, July 12th
7:30-10:45 pm
$5 at the door 17 & older. 16 & under free.
Children must be accompanied by an adult.
Hancock Rec Center (HRC)
---
AIFD upcoming events.
Be a folk dance ambassador.
World's words - updated by Misi.
Pictures from various AIFD events.
Past AIFD boards - a work in progress.
"I can't dance" - tips to get you dancing.
Archive of dance notes - compiled by Franklin Houston.
Newsletter archive - since May 19, 2012.
Texas International Folk Dancers
Village International Dancing1st & 3rd Friday, HRC
Austin Scandinavian Dancing Each Wed, HRC
Csardas Hungarian Dancers
Contradance and English Country Dancing (TAADA)
Austin Friends of Traditional Music
---
Link of the week:
Zorba the Greek flashmob.