Get To know your dance leaders: Madeline Brock.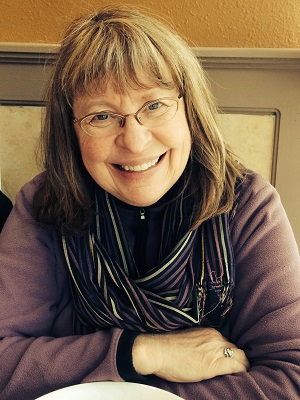 The first dancing that I remember doing was actually at Hancock Center in about 1960. I was 8 years old, and was there with my grandparents at their polka dance group. I remember standing on my grandpa's shoes as we moved around that floor!

A lot of time passed before I returned to any type of dancing; as I grew up, I found that I was not drawn to any of the popular types of dancing. In 1974 I was working at a college in a small town in Iowa, and I signed up for a folk dance class. The first night I was there, a woman came in and begged the teacher to do Cimpoi with her—that hotshot dance from Romania—and I was instantly hooked by the music and the dance. It was 3 years before I actually learned Cimpoi, but International Dance became part of my life that night.

Then I moved to Dallas and joined the Dallas folk dance group, and they encouraged me to start planning the dance lineups (we called it "running the records" because there were actually RECORDS!). I also started teaching dances, because I wanted to share this amazing, diverse cultural experience with others. Bill and I got married in 1979, and we moved to Tulsa, and danced with that group; it's a running joke with us that wherever we live, there has to be folk dancing! We finally moved back to Austin, and I became a regular dancer with AIFD in 1985.

I've been on the AIFD board many times, and served in every position except Treasurer. This year I'm serving as the carryover member (that's the person on the board that's there for continuity between the old and new boards every year).

One of my greatest joys is teaching the Newcomer's Class at AIFD, or any class where people have never had the experience of the cultures of the world through dance.

I love the dancing, the music, and the people of this community more that I can ever say.

Madeline Brock
4th of July, 2019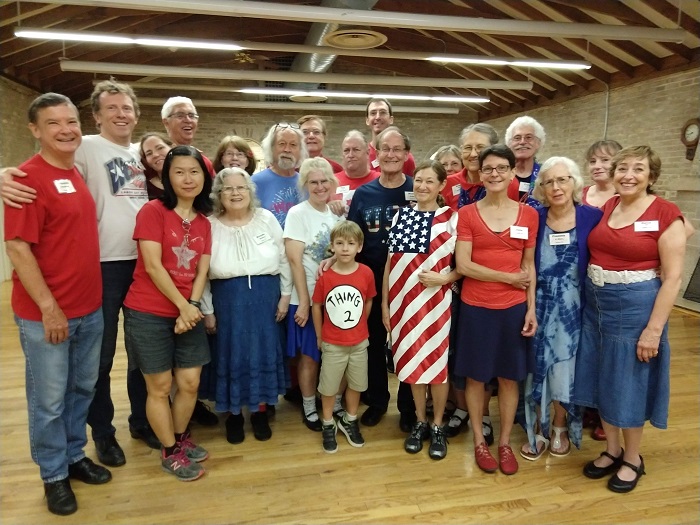 (click on picture for larger image)
Thanks to Denise Fynmore for sharing.
City of Austin Update:
Austin-Travis County residents are directed to continue practicing social distancing, hygiene, and face covering behaviors under City and
County Orders adopted on August 15. The "Stay Home Save Lives Order" replaces the original "Stay Home-Work Safe Order." In addition to hygiene guidelines, the orders state that social gatherings up to 10 people should be avoided or minimized, and socializing in groups of 10+ individuals outside of the same household are prohibited.
Online Dance Activities
Compiled by Denise Fynmore.
These are some of the online dancing events, but not all. Please check our Facebook page frequently.

Also, Dale Adamson maintains a comprehensive Events Calendar of online dance events.

In an effort to streamline the newsletter, events on this calendar will not be duplicated in the newsletter.



Friday Night Folk Dance co-hosted by Houston and Austin International Folk Dancers, 7:30-9:30pm. This week's (July 10) line up and Zoom link are on the AIFD website.

Virtual Stockton Folk Dance Camp July 11 - July 18, 2020 Virtual Stockton folk dance camp.

Yves Moreau – has dance videos of his teaching of FIVE dances. These are available on his Facebook page anytime.

San Antonio Zoom dancing is Tuesdays 7-9 pm ("doors" open at 6:45 pm). The link is https://us02web.zoom.us/j/85471809185. Everyone is welcome. Dance requests may be sent to host@sanantoniofolkdancers.org, preferably by Sunday, and we will honor them as much as we can. If you would like to get on our regular or Zoom mailing list, please send a message to the same address.

Dimitar Petrov teaches a workshop with several Bulgarian dances. It is on YOUTUBE.COM, also with a link from the AIFD Facebook page. Available on YOUTUBE anytime.

Rebekah Valencia is hosting Monday evening ZOOM folk dancing in your living room from Oklahoma. Check the Oklahoma City Folk Dancers Facebook page for time ad ZOOM link.

CDSS (Country Dance and Song Society) has compiled a great list of online events for the Contra and English Country Dancers. See their website at cdss.org community covid19 online-events.

Austin Balkan Singers in quarantine continues to meet on Zoom, every Wednesday night at 7 PM for an hour or so. If you are missing your 5/8, 7/8, 9/8, or even 11/8 dose you are welcome to join us – zoom singing has the advantage that you can "sing along" while muted if you want to learn in private. Also we are being joined by folks from far away who we have missed. Send e-mail to susan.hovorka@gmail.com if you want to zoom-sing along with us.

If you have any suggestions or comments about upcoming online events, please email contact@aifd.cc.