AIFD Newsletter
January 10th, 2015
Night in Old Vienna 2015!! A huge success!!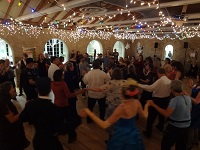 From the AIFD board: Thanks to everyone who helped make last week's A Night in Old Vienna a complete success!!! With close to 90 people in attendance, it was a night for the ages: a festive atmosphere; great people; beautiful costumes; incredible food-n-drink spread; endless torrents of delicious live music by so many talented people; videos; a ballet; and even a (faux) champagne toasts. Just like festive nights in the old country, this one flew by on smiles, adrenalin, and endorphins.

Misi Tsurikov took a number of pictures of the event to share. You can find them at http://tsurikov.mailcan.com/2015-01-03.
This week at dancing

Mike DJs, assisted by Michel.

Enjoy a fun night of folk dancing with DJ Mike Revesz. Mike will be assisted by Michel Breger.

---

Saturday, January 10th
7:30-10:45 pm
$5 at the door 17 & older. 16 & under free.
Children must be accompanied by an adult.
Hancock Rec Center (HRC)




Please remember to sign in when you come to dancing. The city uses the sign in sheet to track the usage of HRC.

---

A Special Announcement about Teaching:

We are proud to announce something new and very special -- a 2015 newcomers' semester! Beginning this Saturday, Madeline Brock will lead a structured multi-month program that will build newcomers' dance skills and repertoire. Each session will cover:

Folk dance fundamentals (formations, handholds, steps, rhythms).

Dance etiquette.

A selection of our favorite newcomer-accessible dances, new and old.

The program starts at 7:30 p.m., as usual. Don't miss it!