Austin at Stage 4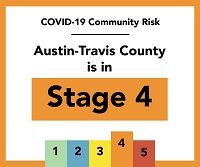 We plan to resume dancing at Hancock Rec Center on Fridays, 7 pm to closing, when Austin PARD allows gatherings that will fit our population of attendees in number and safety precautions.

However, Austin is currently in Stage 4: MASKS!!!, practice good hygiene, practice social distancing, stay home if sick, avoid others who are sick, avoid gatherings of greater than 10 people, avoid non-essential travel, business at 25-50% capacity.
Texa-Kolo Thanks!!!
Austin IFD'ers,

I hope you made it to at least some of the fantastic, awesome, wonderful Texa-Kolo !

So, as you know, or wish you had turned your computer towards Texa-Kolo, this was a fantastic event across time zones and people's computers!

Bill Cope (Kolo Festival) and our own Holly Plotner (representing TIFD and AIFD) were the Texa-Kolo Festival Directors. Kathleen McDonagh, representing TIFD and AIFD, also did a huge amount of work both before and during the Festival.

The landing page for the event is at Texa-Kolo Landing Page - Texas International Folk Dance Camp - Kolo Festival (dcff.net).

The Texa-Kolo thank you page is at Thank you - Texa-Kolo 2020 (kolofestival.org) What is that, 150 people? Wow

If you know any of these people, please do send a personal note of thanks to them.

Craig Roberts
No changes to Hancock Rec Center
Thanks to inquiries by Franklin Houston, we've been assured by Parks and Recreation that "The Hancock Recreation Center is independent of the golf course and will not be impacted in any of the current provided programs."

There will be changes to the Hancock Golf Course which will allow the city to enter into a public-private partnership to improve the site into a modern golf learning center as part of a concession agreement with the City.

Austin Parks and Recreation Department (PARD) had scheduled two meetings to solicit public input, on Oct 26 and 29. However, both have been postponed to future dates. Planning documents are here. (with the link to hancock-golf-course-planning )

The communication that Hancock Recreation Center will not be impacted in any of the current provided programs gives AIFD Board the confidence that we can go forward with our plans.

If you have questions please email the AIFD Board at board@aifd.cc.

Thank you and sometime we will dance again! Craig Roberts, president@aifd.cc.