A Summertime Message From The AIFD President:
Since dancing involves a lot of close contact, and the heat of summer follows us
into the dance hall, please consider these basic suggestions: Wear comfortable, clean, fresh attire for general folk dancing; consider bringing extra shirts and a hand towel or bandana. Hygiene 101: shower, deodorant, teeth; avoid strong perfumes/colognes; clean hands - especially when eating snacks. - Madeline Brock.
(See Madeline's original message).
This Friday at dancing
Holly DJs, Jasmine assists.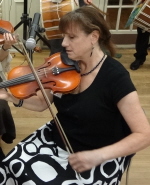 Enjoy a fun evening of folk dancing DJ'd by Holly Plotner. Holly will be assisted by Jasmine Guha-Castle.
Teaching: Bob Leibman is a nationally recognized expert on the

village dancing of Macedonia and East Serbia. He will be presenting dances of the Krsteno (crossing step) family of Macedonian dance. His featured dance will be Beranče. We are so fortunate to have Bob in our dance village!
Friday, August 19th, 7-9:45 pm
The admission fee is $5 for those 18 and older.
There is no fee for those under 18,
but they must be supervised by a designated person 18 or older.
Hancock Rec Center (HRC)
---
August is AIFD membership month.
Signing up as an AIFD member helps the group fulfill its insurance coverage requirements. The $10 yearly fee covers the annual insurance premium cost and other AIFD costs not covered by the weekly admission fee.

AIFD members receive the following benefits:
a personalized, magnetic name tag;
the right to elect AIFD Board members and vote on group decisions;
the right to serve on the AIFD Board;
the peace of mind that you are supporting one of the most dynamic folk dance groups in the country!
Current members: If you have not already done so, please renew your membership with the group. It is simple: give $10 (cash or check) to the treasurer at dancing with a special note and, if necessary, update your contact information.

New members: If you have been dancing with us for at least a month, please join us as an official member. New members are provided a magnetized name badge; simply provide us your completed membership form, and $10 (cash or check).

For more information, and to access the membership form, please visit aifd.cc/aifd-membership
Are you CPR/AED certified?
Safety First! The AED (Automated External Defibrillator) is located next to the attendant's desk at Hancock. Even if you are not certified to operate the device,

just knowing where it is could save a life. If you are certified to operate the AED please let the Board know. The Board will not keep an official list, but would like to know who to turn to in the event of an emergency. Thanks!
(more details here.)
Link of the week:
Shopsko Horo.

---

Other dance links


AIFD:(Contact & Board page)


Wednesdays, 7:30-9:45, HRC, backroom, free.
August 31: Multi Culti with AIO.
No partner necessary.

Mondays, 7-8, Newcomers' hour. HRC, backroom, free.
No partner necessary, we rotate often.






Tuesday, August 23rd Amanda Kitchens at Volstead Lounge.
Amanda Kitchens, who has played with a variety of bands at AIFD events, will be performing a Balkan set at Volstead Lounge, 1500 E 6th St, from 8-10 on Tuesday, August 23rd.

---

Wednesday, August 31st Multi-Culti night with AIO.
Join the Austin Scandi Dancers for a lively evening of dances from around the world at their Multi=Culti Night. Music will be provided by AIO. Back room, HRC, 7:30-9:45.

---

September 2-5: 20th Annual Balkania!!!
Need to get out of the Texas heat? Consider attending Balkania!!!, just out side of Portland, Oregon. For full details, including how to register and fees, check out the event website. Tks for Joan Bennett for the suggestion.

---

November 4-6: OCIFD 33rd Annual Old Country Weekend
Join the Oklahoma City International Folk Dancers for a lively weekend of teaching, dancing, and live music. See the event flier for full details, including fees, location, and registration info.




Texas Camp is coming . If you are a member of TIFD, a registration packet should be arrive in your mail soon. Alternatively, check the TIFD webpage to register online.