From the AIFD Board President:
We continue to hope and pray that all our AIFD dancers and friends are staying safe and healthy during the stressful time! We urge everyone to follow the stay-at-home and social-distancing guidance as much as is possible, because (as I said last week) the sooner the virus is stopped, the sooner we can get back to DANCING!! Meanwhile, there are on-line activities for folk dancing and folk music – in your living room! We will keep you updated on the AIFD dance schedule, and post links of interest.
Can You Help?
Lots of people in the community are suddenly in need of help. AIFD has setup a spreadsheet of opportunities to provide direct or indirect financial support. Please feel free to check it out.

Do you know of a fundraising effort that should be added to this list, please click here.
Blast from the Past!!!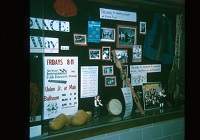 (Click on image for full size.)
"In the fall of 1965, AIFD created an exhibit (shown above) to publicize folk dancing at the University of Texas. At this time, AIFD was meeting every other Friday at the UT Student Union and on alternate weekends on Saturdays at Hancock." - Franklin & Dena Houston.
---

Upcoming ZOOM events:
A Concert In Your Own Home.
On Friday, April 10th, 7:30-8:30, Shirley Johnson will be providing live folk dance music on Zoom, so you can dance in your living room and see others dance in theirs. More details forthcoming.

Are you thinking of doing a live event during the quarantine? AIFD can help get the word out .
---
Folkcloud: Traditional music from around the world.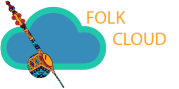 FOLKCLOUD - A complete archive of traditional music from around the world. Enjoy.