This week at dancing
Free, Live Music OPEN HOUSE!!!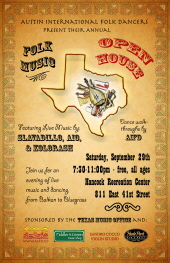 Join us this week for a free, live music Open House. They'll be live music from 3 great bands, as well as fun music between sets programmed by Sharon Casteel and Vlad Codrea, with several others available to conduct walk throughs so everyone can enjoy all the music. If you are so inspired, please bring something for the snack table.
---
7:30-10:45 pm,
Open House - FREE
Hancock Rec Center (HRC)
---
Not receiving this newsletter directly from AIFD? Let us add you to the distribution.
Be the Tipping Point
Invite friends to this week's open house.
Read more on how to "Be the Tipping Point"
---
About the open house:
AIFD would like to thank Genevieve Kent for making the open house possible. Through Genevieve's efforts, the live music portion of the open house has been funded by a grant from the Texas LIve Music Grant progam. This program was adopted by the state of Texas as a means to distribute funds from a large, multi state legal settlement against CD manufactures in the 1990s for price fixing. Additional funding has been provided by Fiddler's Green, Sandro Cocco Violin Studio, and Hyde Park Bar and Grill.
---
About the bands:
Live music at the open house will be provided by 3 terrific bands:AIO - Annoying Instruments Orchestra, playing pleasant and fun dance music with instruments considered "annoying" by some; Kolorash, a folk dance band specializing in folk music of Eastern and Northern Europe; and Slavadillo, playing great music from Eastern Europe for over 25 years.
For more information about these great music groups, check out AIFD's links page.
---
More upcoming events ...

October 6th: Come cheer on fellow dancers at the Oktoberfest ..
November 3rd: Kabile ..
November 22-25: Texas Thanksgiving Camp ..
For complete details check out AIFD's event page