AIFD Newsletter
October 14, 2016
Note from one of your teaching directors: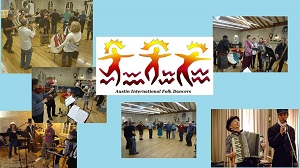 A heartfelt thanks to our amazing teachers who taught at the Open House last Friday. Madeline Brock, Kathleen McDonagh, Franklin Houston and Michel Breger taught some wonderful dances to the group - newcomers, children, and veteran dancers alike. All of our teachers were welcoming, enthusiastic, and full of energy. They gave a magical spark to this event.

Also, a huge thank you to Madeline Brock and Calin Nicolae who were our programmers. They did an awesome job of organizing the teaching and providing a wonderful mix of taught dances and dances for the "old-timers" so that everyone was able to get their "dancing fix".

It takes the efforts of all these people, plus the enthusiasm and support of our dance community, to make AIFD the welcoming dance village that is so strong and vibrant.



Dena Houston,
Co-Teaching Director
Parking notice: Due to the Waterloo Disc Golf Tournament on Friday - Sunday, AIFD will have access to only a portion of the regular parking lot. There may not be enough spaces in the parking lot on Friday for everyone. Please be prepared to find alternate parking and walk up the hill to the rec center.




This Friday at dancing
October Birthdays And Anniversaries!!!
John DJs, Dee assists.

Do you or a fellow dancer have a birthday or anniversary in October? Come to folk dancing to celebrate with song, dance, and cake! John Scales will be our DJ. John will be assisted by Dee McCandless.

Teaching: It's Oktoberfest time at AIFD this week (Texas style). Michel Breger will be presenting dances from Germany and the United States, including the old-time favorite Nine Pin Reel and other surprises. Put on your lederhosen and your cowboy boots to do some real scootin' around on the dance floor! Teaching begins at 7 PM.




Friday, October 14, 7-9:45 pm
The admission fee is $5 for those 18 and older.
There is no fee for those under 18,
but they must be supervised by a designated person 18 or older.
Hancock Rec Center (HRC)

---




Friday, October 28th: Halloween Bash!!
Get up, dress up, and make up for our annual Halloween party, featuring live music from our friends in La Strada! There will also be a Children's Hour taught by Kathleen McDonagh and Madeline Brock beginning at 7 pm.

---

Friday, November 11th: No dancing at HRC.


In honor of Veterans Day, city facilities, including Hancock Rec Center, will be closed.

---

Friday, November 18th: Texas Camp Band at AIFD!!


Enjoy a preview of this year's Texas Camp music at dancing -- provided by members of the Texas Camp Band.

---

Friday, November 25th: Texas Camp - no dancing at HRC.
We hope you will be with us in Bruceville enjoying Texas Camp!!!





Link of the week:
Irish Folk Dance
by Eire Born - Nora Pickett Irish Dance Academy

---

Other dance links


AIFD:(Contact & Board page)


Wednesdays, 7:30-9:45, HRC, backroom, free.
1st Wed: singing; 2nd & 5th Wed: music jams; 3rd Wed: slow music jam; 4th Wed: dance - often with live music (no partner necessary).

Mondays, 7-9:45, HRC, backroom, free.
No partner necessary, we rotate often.




Have something you'd like to see in the AIFD newsletter?

Do you have an upcoming event you'd like to announce, a poem you'd like to share, a dance experience you think other dancers would enjoy? Feel free to submit it to the AIFD newsletter and we'll see if we can fit it in.




October 28: Apprentice Application Deadline.
October 28th is the application deadline for the Texas Folklife 2017 Apprenticeship Program. This program encourages the continuation of traditional arts in Texas by awarding grants to master artists to train apprentices in any Texas-based folk and traditional art form or practice. For program details: texasfolklife.org/article/apprenticeship-in-the-folk-traditional-arts-program.

---

October 30, noon-5:30: Polkapocalypse!!!
The Third First Annual POLKAPOCALYPSE! is upon us! Four awesome Polka bands--including two Grammy (TM) winners--will rock the boots off your lederhosen with a crazy mix of Tejano, Czech, German, Ukrainian, Polish, Slavic, and Norteno sounds! Elisabet Ney Museum.

---

November 4-6: OCIFD 33rd Annual Old Country Weekend
Join the Oklahoma City International Folk Dancers for a lively weekend of teaching, dancing, and live music. See the event flier for full details, including fees, location, and registration info.

---

November 5: HRC's 70th Anniversary

- Details forthcoming.

---

November 18-20: Fire Ant Frolic.
Fire Ant Frolic is Austin's annual contra dance weekend. Brought to you by the Traditional Austin Area Dance Association, this year's event features nationally acclaimed fiddle player Jamie Laval, accompanied by Owen Morrison on guitar, with calling provided by Susan Petrick. For information and registration, check out www.fireantfrolic.org.




Nov 24-27: Texas Camp 2016!!

Registration is open for Texas Camp 2016. If you are a member of TIFD, a registration packet should have arrived. Alternatively, registration details, online registration form, and camp information are available at tifd.org/texas-camp. Upcoming key dates:


| | |
| --- | --- |
| October 15 | Deadline for "family priority" private housing requests |
| November 1 | Deadline for regular registration ($25 late fee after this date) |
| November 8 | Absolute last day to register! |